Fedora 10 – Being geeky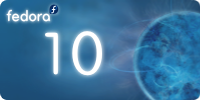 I've been running my own mail server for quite some time now and also hosting some apps and what not from a Windows Server 2003 box gathering dust in my basement.
Recently I decided it was time to put some of the quite high spec bits and bobs sitting around my room to good use and so I cobbled together a machine and then sat there wondering what OS to install on it.
New Spec:
ASUS Commando Motherboard
Intel CORE 2 Duo E4500 @ 2.2GHz
4GB Crucial DDR2 PC2-6400 (4x1GB) (I'll get to this bit in a minute!)
3 x 500GB Samsung SpinPoint F1 SATA2 (1 x RAID1 & 1 Standalone)
256MB ATI Radeon x1950XT
Now that's no slow poke machine so my OS decision was pretty important I thought. Obviously, being a Sys Admin I just thought, yeah, I'll slap Windows Server 2003 on it and that'll be that. I had infact configured the HDs in a RAID5 with the onboard Intel ICH8 but a weird unfixable issue with the graphics card had me strumming my fingers so I decided to go with Ubuntu instead and run VMWare Server on that for my obvious Windows requirements.
First off, Ubuntu didn't see my RAID5 partition so after some investigation and subsequent discoveries about fakeRAID and so called fake RAID controllers on recent motherboards, I decided to bin the RAID5 idea and create a softwareRAID setup. Now at this point I still wasn't settled on the OS and the whole fakeRAID issue was really annoying me so I decided to see if I could get it working with another OS so I tried Fedora.
That is pretty much where I stopped. Unfortunately Fedora still didn't support my fakeRAID on the ASUS Commando motherboard but the OS was so nice (and I'm used to administering Redhat Enterprise Linux 5 at work anyway so it wasn't a steep learning curve) I decided to stick with it.
So far I'm VERY impressed with Fedora 10. It's running VMWare Server 2.0 which is running 2 Windows Server 2003 boxes, one is a Domain Controller, the other, an Exchange Server 2003 box and it's pretty damn good!
Read on for my battles with memory holes, PAE, rebuilding kernels and more. 🙂