IE8 & Google Street View UK Launch

It was a big day for launches yesterday.
Google announced their Street View add on for Maps was available for a number of major and minor UK cities. Those covered include: Nottingham, Derby, Sheffield, Leeds, Manchester, Bradford, Scunthorpe, Bristol, London, Belfast, Cardiff, Swansea, Norwich, Glasgow, Edinburgh, Dundee, Aberdeen, Newcastle-upon-Tyne, Birmingham, Coventry, Liverpool, Southampton, York, Cambridge, Oxford.
Further news today suggests that the Street View cars are out and about in many other UK cities having been spotted in places like Essex and Hull.
As the title suggest also, Street View was joined by Internet Explorer 8. Microsoft's much anticipated "standards compliant" *cough* browser update.
One final note, you may notice that if you install IE8 and then try to use Google Street View you'll get an error. Who timed that badly then, Google or Microsoft?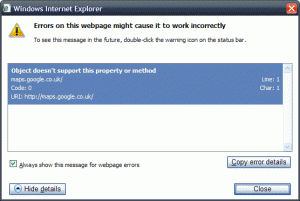 -Lewis