Markus Schulz – Toronto '09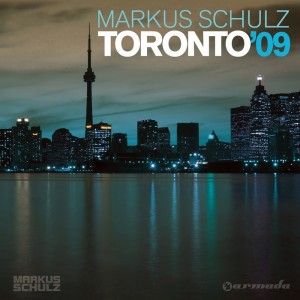 Possibly the first time I've ever posted about a CD release here on lewisroberts.com. That's probably because there aren't many artists or DJs I'm a huge fan of but in this case, I'm willing to make a post/exception.
Markus Schulz is, and has been for over three years, my all time favourite DJ. His track selection is flawless, his musical style and mixing sublime. I can only think that the same things that excite Markus Schulz about a track are the same things that excite me and as such there is only ever one occasion where I have disagreed with it in the last three years of following the Global DJ Broadcast: A mix he did for Pete Tong's Essential Selection was, as far as I was concerned, far too deep and progressive compared to Markus' usual style and the music seemed a bit pointless and uninspiring. A bit like he was trying too hard. The same cannot be said for his annual "city/country" releases. Each annual release has impressed and compounded the belief I hold that he is, by far and away, the best DJ in the world.
As my interest in dance music matured from the early house music of the 90s, bypassing techno entirely and landing cleanly on trance and progressive, I discovered Internet streamed music in the early 00s and some time in 2004 I happened upon an artist called Markus Schulz while listening to a downloaded mix set by an online DJ called djGT. A track called Somewhere / Clear Blue caught my ear and I found myself playing it over and over again in the middle of the mix. I searched for more information on Markus and found that he had released a compilation CD: Coldharbour Sessions 2004 so I immediately searched it out and was utterly blown away by it. Since then I have been totally hooked on his music and, unlike Paul Oakenfold and Tiesto, he hasn't changed his musical style dramatically in the last five years. Some might criticise that but what is the point in trying to change what you're good at? If it ain't broke, don't fix it right?
Toronto '09, Markus' latest compilation release doesn't fail to impress either. The track selection is true Markus; melodic vocal and progressive trance that thousands of fans the world over enjoy in his weekly Global DJ Broadcasts, myself included. The day Markus hangs up his headphones will truly be a sad day for me and the thousands of fans his musical style keeps coming back for more. Let's hope that is not something that will happen any time soon. Keep spinning Markus! Toronto '09 is another winner for me.
-Lewis