Lightroom 2: Edit in Adobe Photoshop CS3 fails
After a recent upgrade to Windows 7 RC1 and during my normal rebuild procedure I re-installed Photoshop CS3 and Lightroom 2.4 and performed all the usual processes for patching and bringing them up to Adobe Photoshop 10.0.1.
After having taken a few photos I returned to my PC and, using Lightroom, I imported the photographs to my PC and began to develop them and have a good tinker before I exported to Photoshop for editing and additional refinements. So I right click the image, go to Edit In and choose Edit in Adobe Photoshop CS3…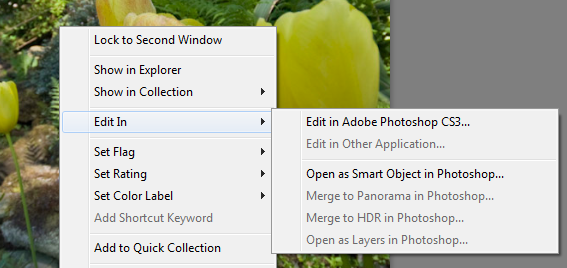 Photoshop fires up and… not a lot happens. No image loaded and upon revisiting Lightroom I was presented with an error:
The file could not be edited because Adobe Photoshop CS3 could not be launched.

Err, well you launched it pal…
I had been suffering with this issue for a while when I decided it was time to go back to Windows XP to rectify the problem. I'd found myself not taking as many photos because it was a pain to do any editing on them without creating duplicate TIFFs so back to XP I went. Well, that didn't work either and XP still had the same fault as Windows 7 RC1 so the fault wasn't down to Windows 7, it clearly wasn't being patched by Adobe Updater.
After another few nights of getting annoyed with the error and after lots of reading on forums for fixes etc I decided to check out what version of Scripting Support I had installed so I took a look at System Info in Photoshop to see what version of Scripting Support had been installed since many of the forum posts pointed towards that as the potential issue.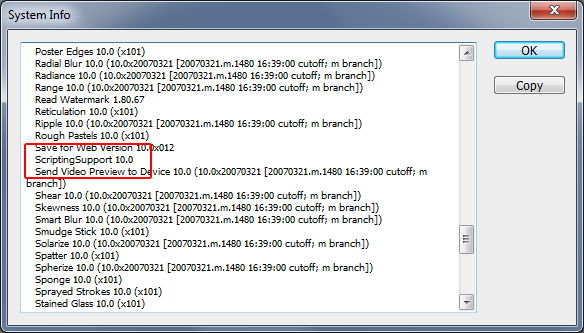 Well, as you can see from this screenshot, despite patching, I had version 10.0. I re-applied the patch and checked again. Still 10.0. I uninstalled CS3, ran the clean up batch file, re-installed, re-patched and still it was version 10.0!? So obviously the patch wasn't working because it certainly wasn't updating the ScriptingSupport.8LI file, or any other plug in by looking at the versions listed from System Info.
OK, conclusion is, the patch isn't working. And this problem doesn't affect just Windows 7 RC1 either because I had the problem in windows XP SP3 too.
So, where now? Well, given what I do on a day to day basis I decided I'd put my skills to use and track down this elusive ScriptingSupport 10.0.1 file.
I manually downloaded the Adobe Photoshop CS3 10.0.1 installation patcher from Adobe's website, and extracted the ZIP file to be given an executable called PatcherApplication.exe – original eh? With this being an executable, I knew that the application would have to extract its contents in order to run and generally, the place they are extracted is the logged in user's temp folder. After a bit of digging in Windows 7 I found the folder location to be:
C:\Users\Lewis Roberts\AppData\Local\Temp\Patcher\Patcher828 – though this can differ from OS to OS and you might need to enable viewing hidden files and folders and even protect operating system files – be warned, if you do this, a misplaced deletion can render your computer useless!
As seen in the following screenshot there are a number of files in the patch folder created in the user's temp folder. The one of most interest is manifest.xml which generally includes the instructions for the application on how and where to install the application and its files.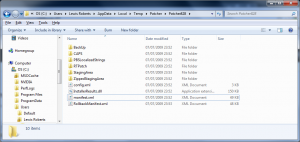 I opened up the manifest.xml file and sure enough, there was a list of files included in the patch, their numbered reference and where to copy them. A quick search for ScriptingSupport.8LI turned up the reference file number of 1015 as shown below. There are a number of language versions covered in the patch and I'm obviously an English speaker so I looked for the en_US version of ScriptingSupport.8LI in my search. You can just open manifext.xml with notepad or Internet Explorer if you wish.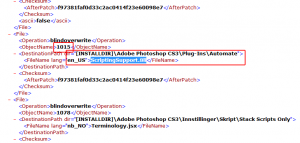 So I navigated to the 1015 file located in C:\Users\Lewis Roberts\AppData\Local\Temp\Patcher\Patcher828\StagingArea and a quick file size comparison with ScriptingSupport.8LI as installed in C:\Program Files\Adobe\Adobe Photoshop CS3\Plug-Ins\Automate confirmed that it was likely the right file. See the comparison screenshots below.
I copied the 1015 file over to the desktop and renamed it to ScriptingSupport.8LI then renamed the original in the Automate folder by adding the .old file extension then copied over my newly renamed 1015 (ScriptingSupport.8LI) file to the Automate folder so that I ended up with this:

I fired up Adobe Photoshop and a quick check of System Info confirmed that the file had been successfully updated while everything else stayed at version 10.0.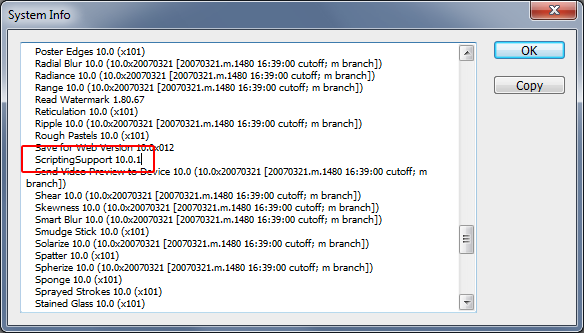 Back now in to Adobe Photoshop Lightroom 2.4 to check the Edit In functionality and after a nail biting 5 or 10 seconds I finally had my Lightroom developed DNG file open in Adobe Photoshop CS3 as a copy instead of a TIFF.
I know from reading many many forum posts that having ScriptingSupport updated to version 10.0.1 doesn't always solve the problem so I can only say that this is how I personally fixed my issues with exporting from Lightroom 2.4 over to Photoshop CS3. I also see no reason why the same process can't be used to ensure your Photoshop plug-ins aren't all up to date. As far as I can tell, Adobe's patcher application simply doesn't work – I'd guess at it having something to do with the language setting chosen at installation since the updater log files suggest nothing is wrong or has failed when inspecting them. Come on Adobe, pull your socks up and release a fully working PatcherApplication eh?
Please don't ask me to post the ScriptingSupport.8LI file that I extracted from Adobe's patcher application since it's illegal for me to do that so I can't. Just follow the above process yourself and don't be lazy.
– Lewis