Ubuntu v. Vista (my experiences)

"We live in interesting times gentlemen."
Indeed, we do. But not interesting for the reasons you suggest pal.
I actually heard this pearl of wisdom before, during and after a presentation I recently attended on Microsoft's new and upcoming technologies. The presentation was intended to demonstrate the new "Wow" factor of Windows Vista and Microsoft's other new and upcoming technologies. After hearing the speaker say "moving forward" (the newest management buzz word) exactly forty-two times during the 1.5 hour presentation, I did actually leave with a favourable impression of Windows Vista and Microsoft's other new (mainly server) based products. In practice however, Vista has failed to impress me and has, if anything, irritated me with its approach to security. I'm normally very acceptant of new technologies but as I mentioned in my previous blog entry, Vista is just bloody irritating. I won't go over old ground, suffice to say I have very recently been tinkering with Ubuntu with a view to moving to it, instead of Vista, if at all possible.

My first impression of Ubuntu was using the desktop or "Live" CD. A very clever use of bootable CD-ROM images that actually allows you to try out Ubuntu without doing anything more than booting your computer from the CD. Booting from the CD gives you a fully usable Ubuntu experience but doesn't affect the contents of your computer as it stands. The Ubuntu interface is nice and sensible and should be obvious to most Windows users. The start button of course does not exist, that's a Microsoftism.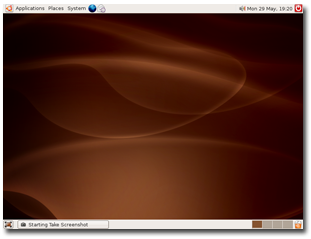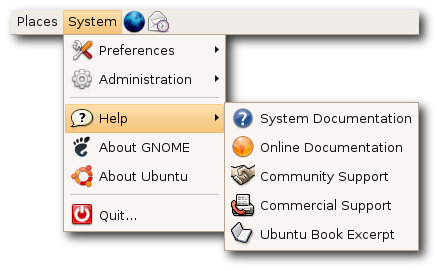 I will say that I remain a little frustrated with Ubuntu. I had the core operating system up and running with no problems at all but being a born tinkerer I wanted to get my new Ubuntu box to do something worthwhile. Let's face it, what do you do when you've first installed Windows? Correct, you install some applications so that you can actually do something with it. And so I decided to attempt to install a Media Centre style machine using MythTV, something I'd heard good things about when looking for alternatives to Microsoft's expensive Media Centre Edition 2005. The learning curve was pretty steep and all the faffing with badly structured and highly complicated conf files left me with a very sore head at 2am on Sunday morning after a very long Saturday night. Sudo this, apt-get that. I can tell you I had a restless night being tormented by conf files. In essence, I didn't get on with the Ubuntu desktop version much. Windows simplifies the entire process of installing and configuring applications by correctly structuring graphical interfaces to either turn on or off settings. I gave up with Ubuntu desktop citing too much tinkering required to get it to work as I expected/wanted. Yes, it comes with OpenOffice.org (Microsoft Office replacement) a browser (Firefox to be precise), mail client and all the usual suspects you'd expect to see on a Windows machine but as my daily use machine it just wouldn't have worked. I don't want to spend three hours hacking away at a conf file to get a single application to work.
Don't let my complaints put you off however, I was attempting something that you will probably never want or need to do. Perhaps with it being my first attempt with a Linux distribution I was expecting it to be too much like Windows? Importantly, there was no shortage of information. Good or bad(ly written), all the information I needed was readily available, either on ubuntuforums.org, ubuntuguide.org or by Googling. Unfortunately, editing my eighty-fifth badly documented conf file sealed the fate of my MythTV Ubuntu box and I canned the project. Installing Microsoft Media Centre Edition 2005 was, for all intents and purposes, a piece of the proverbial compared. Again, perhaps my experience with Windows' simplicity was part of the reason I was left a little sore-headed. Perhaps the real draw of Linux is the power it offers to its users through these conf files? Unfortunately the difficulty that they present is probably where Linux, and therefore Ubuntu, falls down.
Having written Ubuntu desktop off I wasn't frightened to have a go with Ubuntu Server and, if anything, my attempt to get MythTV working laid the groundwork for my foray in to the conf file hell that I expected configuring Ubuntu Server to be. I was pleasantly surprised at the simplicity involved to be honest. I guess Linux distros (distributions for you non Linux folk) lend themselves to being used as servers more so than they do as desktops for advanced users. The massive difference between Ubuntu desktop and Ubuntu Server is the lack of a GUI. GNOME or KDE (the Linux GUIs) are not provided here. You get a command line shell (Bash) and, well, that's about it, apart from some applications installed with the server of course. The premise of Ubuntu Server is to simplify the configuration of a LAMP server. That's Linux, Apache, MySQL and PHP. All the installation is done for you, you just need to configure it… welcome to conf files! The biggest and most impressive facet of Ubuntu server (desktop does offer this too!) is SSH (Secure Shell) that you can use to securely administer your Ubuntu Server from wherever you are. Compared to the options for remotely administering a Windows Server, SSH is a godsend. You configure it from a command line anyway so using something like VNC just isn't necessary. For those Ubuntu installations that do use one of the GUIs, VNC is readily available as a free download if required.
In quite a short space of time I managed to configure a remotely administerable secure Ubuntu server that provides almost all of the services that my current Windows server does. As far as I can see, there is no sensible reason to choose a Windows Server over Ubuntu Server unless you'll be using Microsoft's other proprietary software solutions such as Exchange or Active Directory. Ubuntu Server can do LDAP, DNS and DHCP too but I've not had the pleasure of attempting to configure those yet.
Yes, indeed we do live in interesting times. Interesting only because Microsoft have not (as far as I am concerned at least) delivered what I expected them to with Vista. If the maintainers of Ubuntu can continue their freight train like development of Ubuntu with the next distro, dubbed Feisty Fawn, they can capitalise on Vista's inadequacies and over-zealous implementations of DRM. Coupled with the bad reviews of Vista, Ubuntu should take some market share from Microsoft. Especially from users with basic requirements looking for alternatives to the rather hefty price tag and axe-murderer like EULA included with Vista. I only hope that Canonical continue to make Ubuntu easier, Microsoft need competition, clearly they aren't getting it if all they can produce is Windows Vista.