Hello…Nokia? Where's the N82's successor?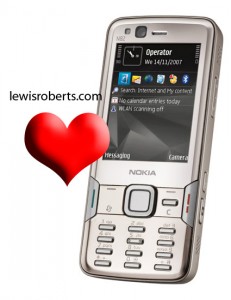 Perhaps it's only me in the world that hates sliders and flip phones. Is it?
I had a Nokia N80 for 12 months and towards the end of those twelve long months I despised its very existence and couldn't wait to get rid of it. As I was looking for a new phone in December 2007 I was desperate not to end up with an N95. I waited a couple of weeks 'til just after Christmas and was rewarded for my patience with the best phone I have ever owned to date; the Nokia N82.
I love monobloc phones. Granted my apparent "love" for monobloc or candybar phones may be because of my aversion to sliders and flips but I just cannot bring myself to buy another slider or flip phone after owning the N80. My brother and cousin both owned N95's and couldn't wait to get rid of them towards the end of their contracts either so who knows, maybe it isn't just me that hates them? There's no doubt that the N80 and N95 are some people's idea of great phones but for me, they aren't. I hate them. Sorry if that upsets you but this is my blog after all. :p
This brings me nicely on to the subject of why I'm writing this blog entry. You may have noticed that I bought my N82 back in December 2007 on an 18 month contract with O2. That contract is due to expire very soon and I admit, the only reason I went with O2 was because they offered the N82 and I also have to admit that their network isn't the best of the two I've used. I was previously an Orange customer but after 10 years they didn't seem to care that I was going to take my business elsewhere and didn't see fit to offer me any kind of a deal at all so I waved goodbye to them and got the N82 on O2. To be honest my main gripe with O2 is the notification of an answer phone message. Unlike Orange where you get the answer phone icon, you get sent a text message to tell you. I'm sorry but it's just piss poor.
Anyway…I have never been disappointed with the N82. It takes the mobile install of Tomtom, Mail for Exchange which works beautifully with Kerio Mailserver and I can get apps like Best Profiles, Yell, MSN Messenger, Google Search, Nokia Maps, Google Maps, Opera, Putty, Handy Clock, Skype, Crypto etc etc etc. The list just goes on and on. Granted most of these same applications can be used on the N95 and the latest N Series phones but the N82 just handles everything I've thrown at it and it rarely lets me down having a great battery life.
So, Nokia… my question to you is: Where in the hell is the successor to the N82? Hmm? Why must I choose from sliders, flips and qwerty incarnations? Where are the damned monoblocs man?!
I know what you're saying: "What about the N79?"
Well, take a look at the specs and you'll see for yourself. The N79 doesn't even come close to the N82's capabilities so why would I buy it as an upgrade to the N82? C'mon Nokia, pull your thumb out and have a decent phone like the N82 somewhere on the horizon for an early Q3 release or, heaven forbid, I may think about getting an iPhone! *Gasp*
-Lewis